Is it time to automate your carton sealing process?
On average, machine tape is 30% less expensive than hand tape. And you get more out of each roll of machine tape than you do of hand tape: approximately 50% more boxes.
But that's not all that a case sealer can do for your facility. It can also help you:
Increase your output
Eliminate double taping and reduce tape usage
Eliminate uneven tape lengths and positions
Enhance packaging
Increase product security and safety
Eliminate product damage
Reduce employee injuries and downtime
Reduce worker's compensation claims and premiums
Get the free eBook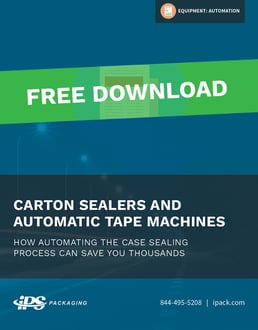 If you are ready to start looking into automating the case sealing program at your facility, IPS Packaging as put together a whitepaper with all the essential data you will need to make an informed decision.
5 questions to ask before automating
8 reasons to install case sealers
Case Sealer specifications
ROI justification
Real world examples and statistics
Stretch wrap machines save money through material and labor savings, as well as load unitization improvements. Correctly utilized, most machines pay for themselves in less than a year.
---
IPS Packaging is an industry leader in providing carton sealing solutions that will positively impact your bottom line. Our knowledgeable Product & Equipment Specialists can show you how carton sealing automation can benefit your organization. An Account Manager, specifically dedicated to your needs, can better help you explore and determine the right solution for your custom application.
Call us today at 844-495-5208 to get started.