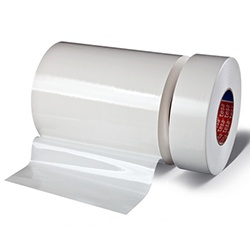 Bumperfilm - tesa 50560
Temporary protection for freshly painted surfaces.
The main application of this tape is for protection against dirt and scratches during assembly, shipping, and storage of painted plastic and/or metal surfaces. tesa Bumperfilm 50560 is a self adhesive film that is designed for sensitive plastic surfaces. This film preserves the paint finish for up to 6 months of outdoor storage, and is environmentally friendly.



Bodyguard - tesa 50535
Temporary protection tape for freshly painted surfaces.
This tape is the most reliable way to protect cars during the transportation process. It's applied after the painting process and provides protection for newly painted surfaces that can receive damage. tesa Bodyguard 50535 is easy to apply and remove, providing cost savings by eliminating the need for polishing or repair after de-masking. 50535 protects paint for up to 12 months of outdoor storage.



Surface Protection - tesa 7133
Surface protection and masking tape.
tesa 7133 is a self-adhesive polypropylene tape with a natural rubber adhesive. The main applications of this automotive tape are for protection against dirt and damage of painted/unpainted parts, as well as masking during multi-color painting. Automotive operations require safe assembly line processes. 7133 is easy to remove, scratch resistant, power wash resistant, and flame retardant.



Fine Line tape - tesa 4174
Automotive tapes for design painting.
This tape is a flexible, temperature resistant PVC fine-line masking tape with a rubber adhesive for a wide range of design painting requirements. tesa 4174's main applications include: lacquering work, masking of plastic parts and fine lines, and for sharp and flat paint edges. Fine line tape won't shrink at high temperatures, won't leave any residues, and conforms to the dimensional change during oven-drying.



Paper Masking Tape - tesa 4316
Finely creped paper masking tape for spray painting.
Paper masking tape is thin, flexible, and great for all general masking applications for the automotive industry. It's even usable in oven-drying applications up to 212-degrees F. tesa 4316 is resistant to wet sanding. Paints and fillers adhere well to the backing. This material is used on painted metal, glass, rubber, and chrome parts. Its hand tear-ability and easy removal simplify the masking process.



Buzz, Squeak, Rattle Tape - tesa 50118
Thick PET fleece tape for cable mounting in automotive interiors.
tesa 50118 is designed with a new acrylic adhesive for the interiors of vehicles. Used for cable mounting and quick and secure fixation of flat and round cables with excellent damping properties. This tape is suitable for common irregular, rough, and critical interior surfaces. Use this tesa tape with automatic tape dispensers for a faster process. 50118 offers good peel and tear resistance.


Ready to talk about tesa tape?